Just a Xiaomi 90 Fun Waist Bag has a new waist bag, how can you not experience it as a fan of Xiaomi? I received the goods in one day, and the speed was very fast. I couldn't catch up with it one day later. They didn't have time to unpack and packed them directly, and took them on the plane. When I got to the destination and opened it, the work was still quite good.
Features:
* Simple and adorable design with classic folding art, the Waist Bag makes you stand from crowd.
* Tough Water-resistant material, so durable, suitable for work, sport and travel.
* Warning Light Bar on the bag, safe and convenient.
* Adjustable and anti-slip function belt, tough and durable.
* Tough closed stitches and convenient key hanging ring on the bag deliver you great using experience.
Design:
The design is inspired by the ancient origami art, which is three-dimensional and geometric. The main body is a water-repellent coated fabric, so you don't have to worry too much about wind and rain.
There is a functional area pocket for storing pens, books, etc.; the mesh bag zipper design makes small items easy to find at a glance. The front of the bag has a zip pocket for small items; the seamless rubberized reflective strips on both sides of the zipper increase the safety of night travel.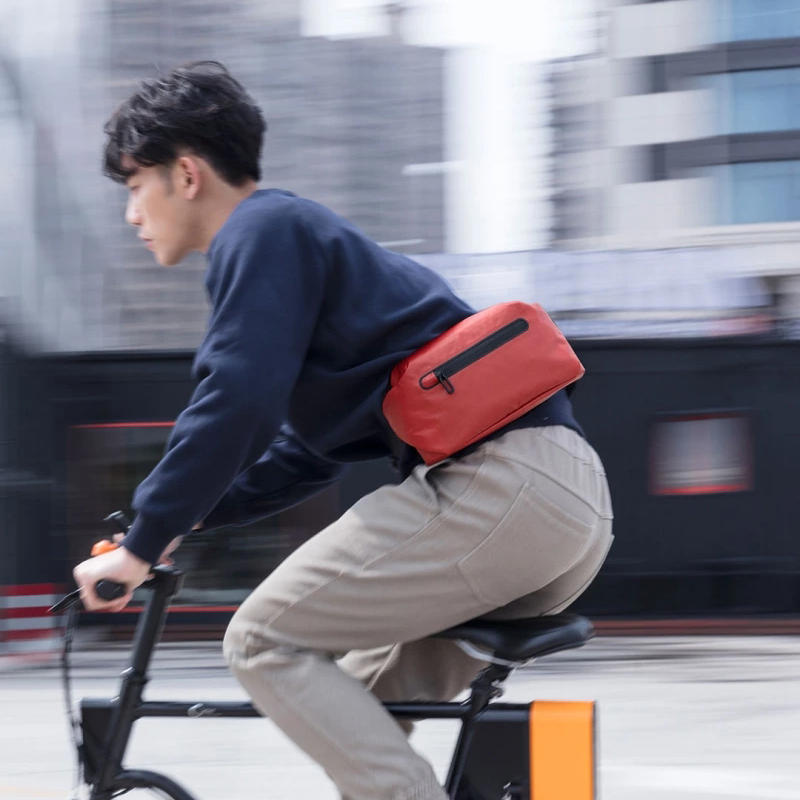 Size & Function:
The belt buckle with lock function can be transformed into a variety of carrying methods such as a waist bag, a chest bag and a crossbody bag, and the utility model is very practical. The overall size is approximately 26 cm x 15 cm x 7.5 cm.
Conclusion:
If you like running, hiking and traveling, use this Xiaomi 90FUN waist bag, I think you will feel comfortable and casual, thus it is so practical to carry with. Other creation from Xiaomi 90FUN, you can click here to learn more in gearvita.
Other related products:
Xiaomi 90FUN Laptop Backpack
Xiaomi 90 FUN Portable Umbrella