The Rincoe Jellybox V3 Pod Kit has taken the vaping community by storm with its unique design and outstanding performance. This visually striking pod kit combines a transparent chassis with customizable LED lights, giving vapers a glimpse of the device's internals while allowing them to personalize their vaping experience.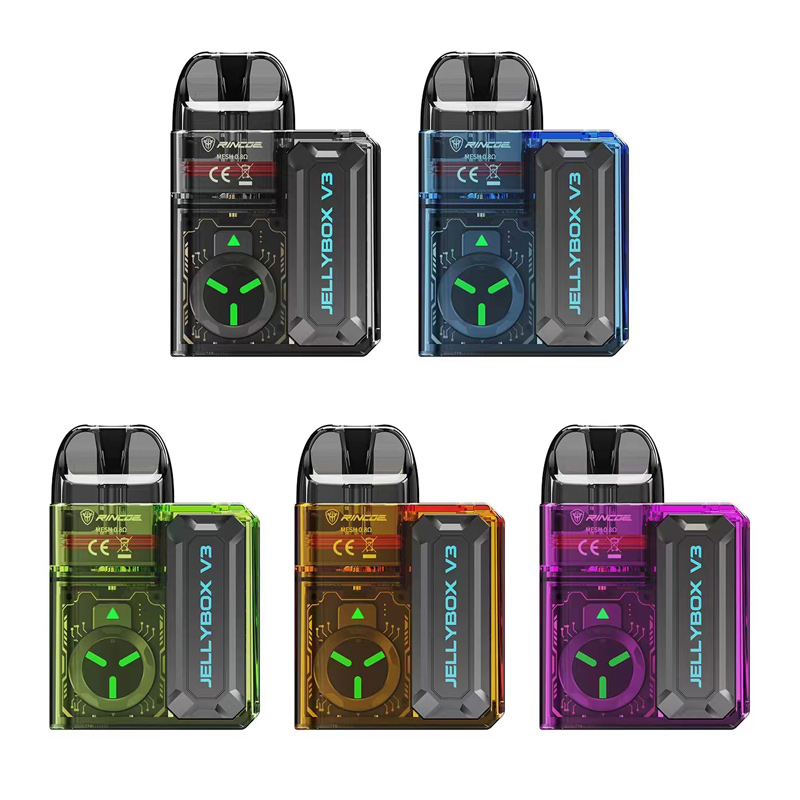 Introduction
In this article, we will delve into the features and benefits of the Rincoe Jellybox V3 Pod Kit, exploring why it has become a favorite among vapers seeking a vibrant and versatile vaping experience.
1. Transparent and Sturdy Design
The Rincoe Jellybox V3 Pod Kit stands out with its transparent construction, which showcases the internal components of the device. The durable and high-quality PCTG material not only provides a visually appealing look but also ensures the pod kit's longevity, making it an ideal choice for vapers who appreciate both aesthetics and durability.
2. Customizable LED Lights
One of the most exciting features of the Rincoe Jellybox V3 is the customizable LED lights. Vapers can choose from a range of colors to light up the device according to their preference. This feature adds a fun and personal touch to the vaping experience, making it truly unique and enjoyable.
3. Intelligent Chipset for Enhanced Performance
At the heart of the Rincoe Jellybox V3 Pod Kit is an advanced and intelligent chipset. This cutting-edge technology enables a variety of safety protections and provides users with a smooth and consistent vaping experience. The chipset allows for multiple output modes, including variable wattage, temperature control, and bypass mode, catering to different vaping styles.
4. External 21700/20700 Battery Support
The Rincoe Jellybox V3 is powered by an external 21700 or 20700 battery (sold separately), ensuring a longer-lasting vaping experience. For added convenience, the device also includes an adapter for 18650 batteries, making it compatible with a wide range of battery options.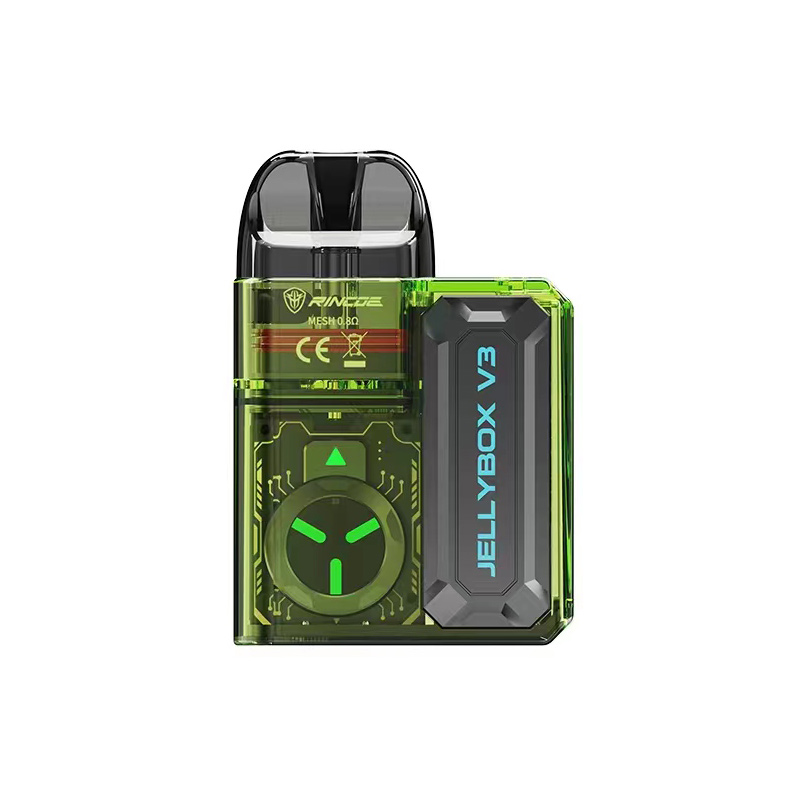 5. User-Friendly Interface
Navigating the Rincoe vape Jellybox V3 Pod Kit is effortless, thanks to its user-friendly interface. The 0.96-inch color TFT display provides essential vaping information at a glance, including wattage, battery life, coil resistance, and more. The three-button configuration allows for quick adjustments, providing vapers with a hassle-free and intuitive vaping experience.
6. Versatile Pod Compatibility
The Rincoe Jellybox V3 is compatible with a variety of pods, allowing vapers to choose their preferred vaping style. Whether you enjoy direct lung (DL) or mouth-to-lung (MTL) vaping, this pod kit caters to different preferences, making it an excellent choice for vapers of all levels.
7. Rich Flavor Production
Equipped with a high-performance coil system, the Rincoe Jellybox V3 delivers rich and intense flavor with every puff. The mesh coils ensure even heat distribution and quick ramp-up time, providing vapers with a satisfying and flavorful vaping experience.
8. Adjustable Airflow
The pod kit features an adjustable airflow control system, allowing vapers to fine-tune the airflow according to their preference. Whether you prefer a tight draw or a more airy vape, the Rincoe Jellybox V3 accommodates various airflow settings, enhancing the overall vaping experience.
Conclusion
In conclusion, the Rincoe Jellybox V3 Pod Kit offers a visually stunning and versatile vaping experience. With its transparent design, customizable LED lights, and powerful performance, it has captured the attention of vapers worldwide. Whether you are a seasoned vaper or a beginner looking for a vibrant and reliable pod kit, the Rincoe Jellybox V3 is undoubtedly worth considering.