Vaping enthusiasts, get ready to elevate your vaping game with the revolutionary Dummy Vapes 8000 Puff Disposable Vape Device. Inspired by the dynamic style of 6ix9ine, this cutting-edge creation by Dummy Vapes is a visual masterpiece that brings together bold colors and an extraordinary vaping experience. Say goodbye to mundane vapes and immerse yourself in the world of Dummy Vapes' visually stunning disposables.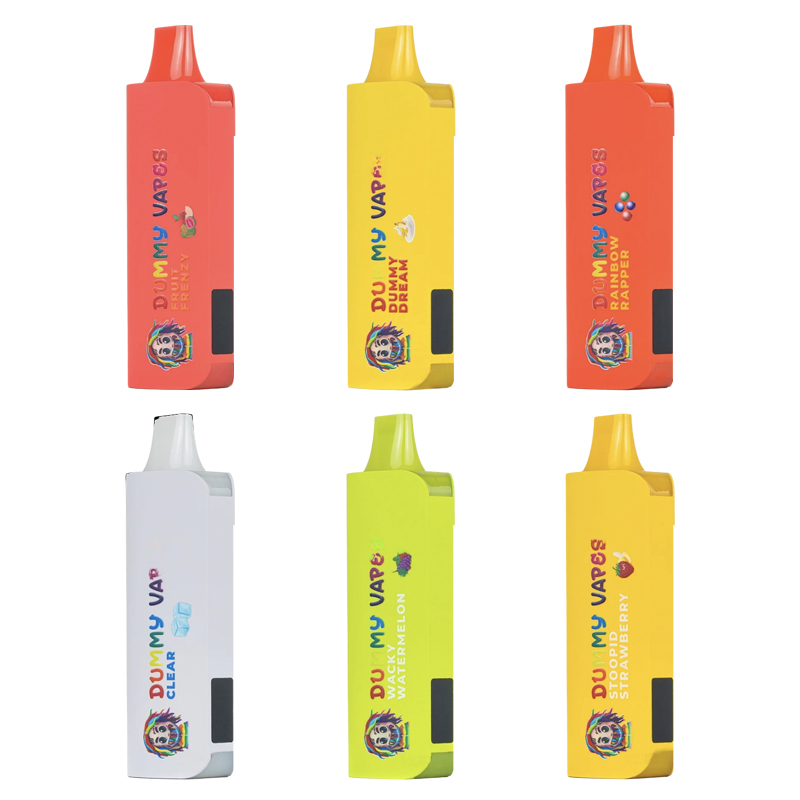 A Visual Feast for Vapers
Dummy Vapes knows that style matters, and their 8000 Puff Disposable Vape Device doesn't disappoint. Drawing inspiration from 6ix9ine's iconic style, these disposables feature a striking visual design that's sure to turn heads. The fusion of bold colors and captivating aesthetics creates an immersive vaping experience that's unlike anything you've encountered before.
The Ultimate Vaping Indulgence
The Dummy Vapes 8000 Puff Disposable Vape Device isn't just about looks; it's about performance too. Each device comes pre-filled with a generous 18ml of e-liquid, ensuring a lasting vaping journey. With a potent 5% (50mg) nicotine strength, these disposables deliver a satisfying hit that's perfect for those who crave a robust nicotine experience.
Unmatched Convenience and Features
Enjoy the convenience of a USB-C rechargeable 650mAh battery that keeps you vaping for longer. But that's not all – with every puff, you'll be delighted by the display of the e-liquid level and battery life, ensuring you're always in the know. This added feature adds a touch of sophistication to your vaping sessions.
A Flavorful Odyssey
Get ready to embark on a flavor adventure with Dummy Vapes. With an impressive lineup of 20 flavors, you're spoiled for choice. From the tantalizing Alien Invasion to the mouthwatering Bad Berry, every flavor is meticulously crafted to tantalize your taste buds. Whether you're in the mood for the zesty Fizzy Lemon or the exotic Kika Kiwi, Dummy Vapes has a flavor for every palate.
Packaging Perfected
Each package of Dummy Vapes 8000 Puff Disposable Vape Devices includes three disposables, ensuring you have a continuous supply of vaping pleasure. With a thoughtfully designed packaging, these disposables make for an excellent choice whether you're indulging yourself or looking for a unique gift for fellow vapers.
In conclusion, the Dummy Vapes 8000 Puff Disposable Vape Device is a pinnacle of style, performance, and flavor. Inspired by 6ix9ine's bold aesthetic, these disposables take vaping to a whole new level. Immerse yourself in the world of Dummy Vapes' visually stunning disposables and experience 8000 puffs of sheer vaping delight. Choose Dummy Vapes for an extraordinary vaping experience that's as unique as you are.