Are you ready to take your vaping journey to the next level? The EBCREATE BC5000 Thermal Edition Disposable offers a thrilling experience that's bound to impress even the most seasoned vapers.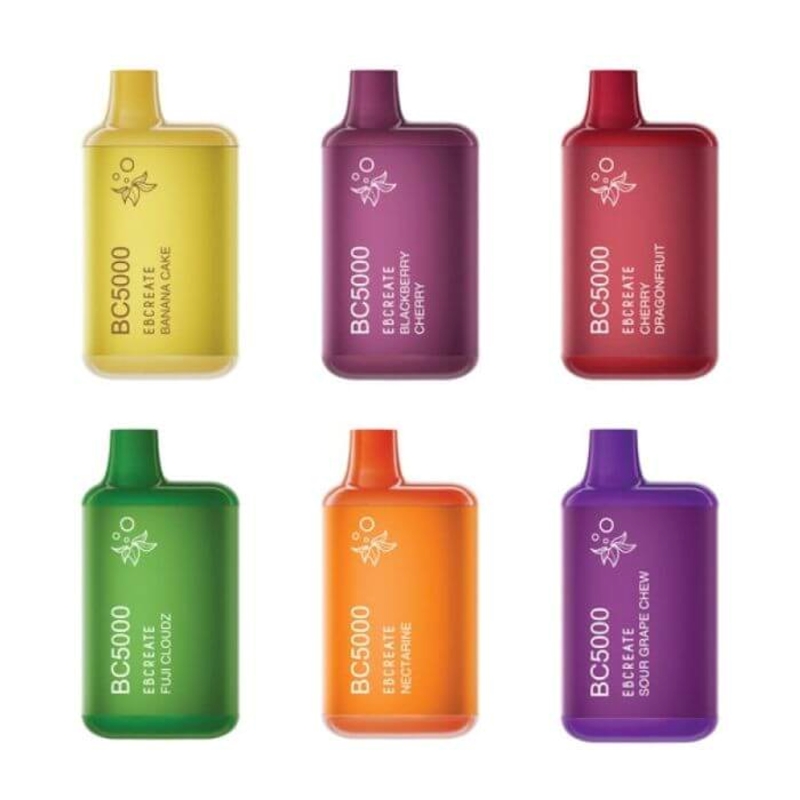 Design and Build Quality
The first thing that catches your eye with the BC5000 Thermal Edition is its striking design. It's more than just a vape; it's a statement piece. The ergonomic shape ensures a comfortable grip, and the unique thermal pattern finish is not only aesthetically pleasing but also provides a non-slip texture.
Puff Capacity
One of the standout features of the BC5000 is its impressive puff capacity. With a whopping 16ml of pre-filled e-liquid, this disposable can deliver up to 5000 puffs. That means you can enjoy days, if not weeks, of vaping without worrying about running out of juice.
Customizable Vaping Experience
The BC5000 Thermal Edition allows you to tailor your vaping experience to your liking. It features an adjustable airflow control system that enables you to switch between a mouth-to-lung (MTL) and direct-to-lung (DTL) draw. Whether you prefer tight, restricted hits or big, cloudy puffs, this vape has you covered.
Multiple Flavor Options
Vaping is all about savoring different flavors, and the BC5000 doesn't disappoint. It comes in a range of delectable flavors to suit your mood. From classic tobacco flavor and menthol to fruit medleys and dessert-inspired options, there's something for everyone.
Innovative Heating Technology
The BC5000 Thermal Edition incorporates advanced heating technology for a consistent and enjoyable vaping experience. Say goodbye to dry hits and uneven flavor distribution. Every puff is as smooth and flavorful as the last.
No Maintenance Required
Unlike traditional mods and tanks, the BC5000 is a zero-maintenance device. There's no need to replace coils or clean tanks. It's perfect for both beginners looking to avoid the complexity of conventional setups and experienced vapers who appreciate the convenience of disposables.
Long-Lasting Battery
With a powerful 1200mAh battery, the BC5000 Thermal Edition can keep up with your vaping demands. It's designed to last, ensuring you get the most out of each disposable device.
Eco-Friendly and Recyclable
EBCREATE takes environmental responsibility seriously. The BC5000 is not only built to last, but it's also recyclable. So, you can enjoy your vape without guilt.
Conclusion
The EBCREATE vape BC5000 Thermal Edition Disposable is a testament to innovation and quality. Its exceptional puff capacity, versatility, and range of flavors make it a top choice for vapers. Whether you're new to vaping or a seasoned pro, this disposable will exceed your expectations.