Introducing the pinnacle of vaping innovation – the Funky Republic 3000 Disposable Vape. This extraordinary device is not just another disposable; it's a premium vaping solution that promises an exceptional journey through flavor, convenience, and power. Get ready to explore the world of vaping like never before with this groundbreaking creation.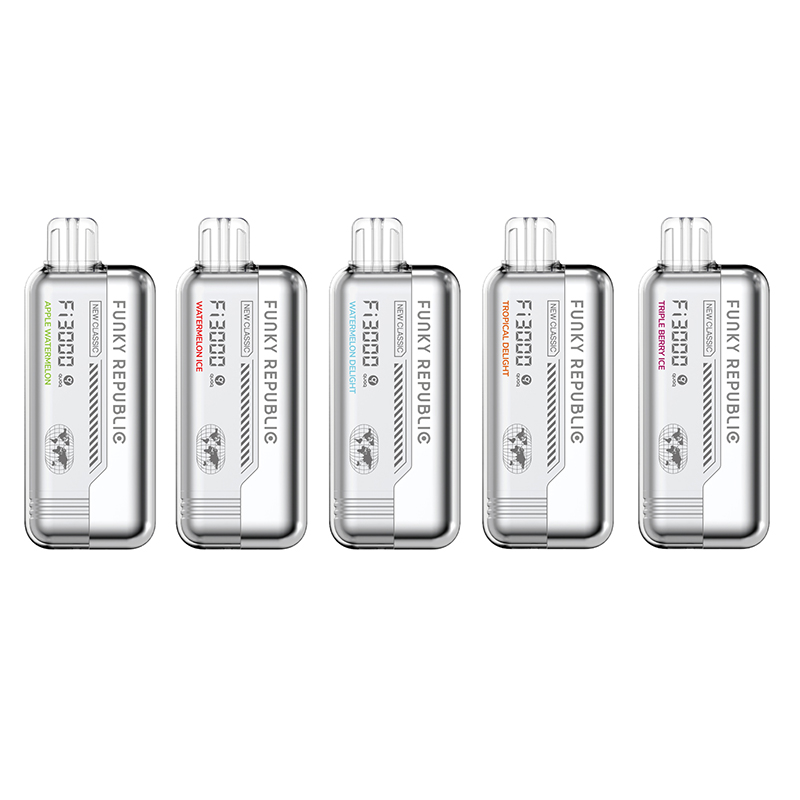 A Taste of Vaping Luxury
Elevate your vaping game with the Funky Republic Fi3000 Disposable Vape, a device that redefines the boundaries of disposable vaping. Crafted for those who demand nothing but the best, this device offers comfort and consistency that's unrivaled in the vaping world. Say goodbye to compromises and hello to a vaping experience that stands apart from the rest.
Experience Flavor Like Never Before
At the heart of the Funky Republic Fi3000 lies integrated QUAQ coil technology – a groundbreaking innovation that ensures every puff is a burst of flavor. The Fi3000 isn't just a device; it's a flavor journey that takes you on an adventure with each inhale. Get ready to explore the depths of taste and indulge in clouds that are as flavorful as they are satisfying.
Innovation Meets Compact Design
Designed by the visionaries at EBDesign, the Funky Republic Fi3000 is an innovative masterpiece that effortlessly fits in the palm of your hand. Its compact size is a testament to convenience, making it the ideal companion for vapers on the move. Don't let its size fool you – this device is a powerhouse of vaping excellence.
Power and Capacity in One
With a generous 5mL vape juice capacity and an 800mAh battery, the Funky Republic Fi3000 offers over 3000 puffs that are simply irresistible. This device doesn't just promise a satisfying vaping session; it ensures that you can enjoy extended periods of vaping bliss without the hassle of recharging or refilling.
Explore the Flavor Spectrum
Choose your flavor journey from an array of options that cater to your unique preferences. From the refreshing notes of Apple Watermelon to the invigorating blend of Blue Razz Ice, each flavor option promises an adventure for your taste buds. With a nicotine strength of 50mg, the Funky Republic Fi3000 is tailored to those who seek a powerful yet enjoyable vaping experience.
Experience Funky Republic at Your Fingertips
Are you ready to step into a world of flavor, power, and convenience? Look no further than our online vape shop, where the Funky Republic Fi3000 Disposable Vape awaits. Immerse yourself in the cutting-edge technology, exquisite design, and an array of flavors that are sure to delight your senses.
Experience Vaping Elevation
The Funky Republic Fi3000 Disposable Vape is not just a device; it's an embodiment of vaping elevation. From its QUAQ coil technology to its compact design, this disposable vape promises an experience that's beyond ordinary. Say goodbye to compromises and embrace the world of extraordinary vaping with the Funky Republic Fi3000 Disposable Vape.