In the ever-evolving world of vaping, CBDfx introduces a groundbreaking product that combines the best of both worlds: the CBDfx Delta 9 THC Vape Pen Kit. Designed to redefine relaxation, elevate your mood, and promote overall wellness, this vape pen kit offers a unique blend of Delta 9 THC and Full Spectrum CBD in a precise 1:10 ratio.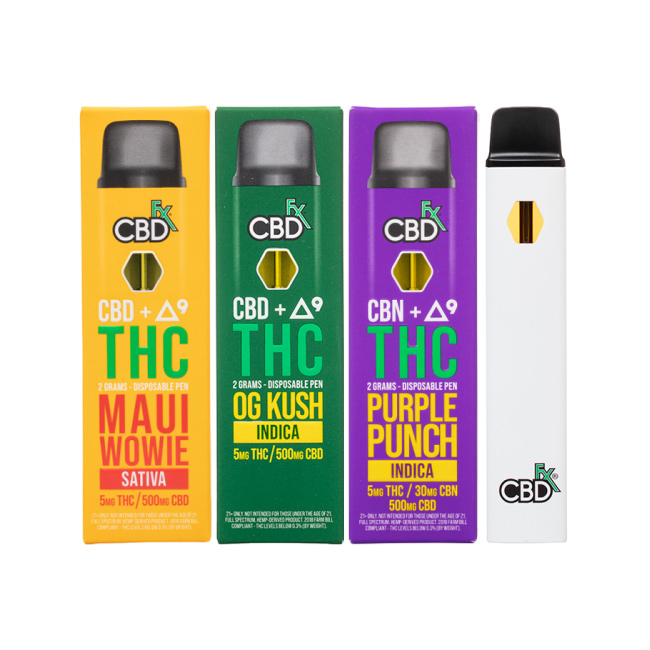 CBDfx understands the importance of striking a perfect balance between the intoxicating effects of THC and the holistic benefits of CBD. With just 5mg of Delta 9 THC and a generous 500mg of Full Spectrum CBD, these vape pens offer a mild intoxication that's perfect for those seeking a gentle euphoric experience.
What truly sets the CBDfx vape Delta-9 THC Vape Pen Kit apart is its diverse range of tantalizing blends. Choose from flavors like the tropical and exotic Maui Wowie, the classic and timeless OG Kush, the fruity and invigorating Pineapple Express, the sweet and soothing Purple Punch, or the decadent and celebratory Wedding Cake. No matter your preference, there's a flavor for every palate.
The newer version of these THC + CBD vape pens comes with impressive upgrades. A ceramic coil ensures consistent and delightful flavor with each puff, while the 2ml reservoir offers approximately 800 puffs before needing a replacement. Keeping an eye on your material is easier than ever, thanks to the larger window that allows you to monitor your remaining vape juice. Plus, recharging is a breeze with the micro USB port, ensuring you're always ready for your next vaping session.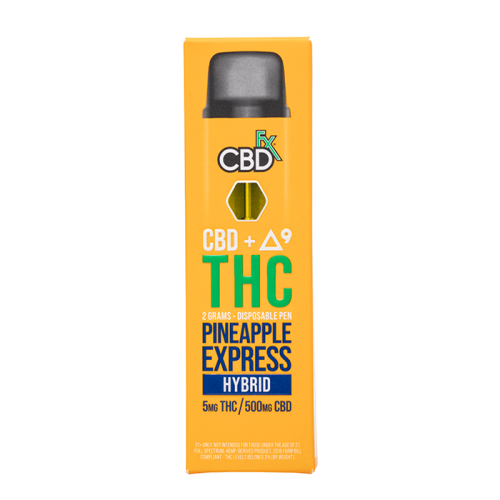 One of the most user-friendly aspects of the CBDfx Delta-9 THC Vape Pen Kit is its button-free design. Simply take a drag, and the device activates, allowing you to savor the rich and flavorful vapor without any complicated controls.
The package includes one CBDfx THC CBD Disposable 2ml Vape Pen, ensuring you get to enjoy a hassle-free and elevated vaping experience right out of the box.
If you're on the hunt for a vape pen that marries the goodness of CBD with the mild euphoria of Delta 9 THC, look no further than the CBDfx Delta-9 THC Vape Pen Kit. Elevate your vaping experience, enhance your well-being, and indulge in a world of delicious flavors. Discover the future of vaping with CBDfx today.