The vaping industry has seen remarkable innovations in recent years, and 2023 is no exception. Enter the R&M MAGIC 7000 Puff Mini E-Cigarette, a game-changer in the world of disposable rechargeable vape pens. In this article, we'll delve into the exciting features and specifications of this remarkable device and why it's earning a reputation as the future of vaping.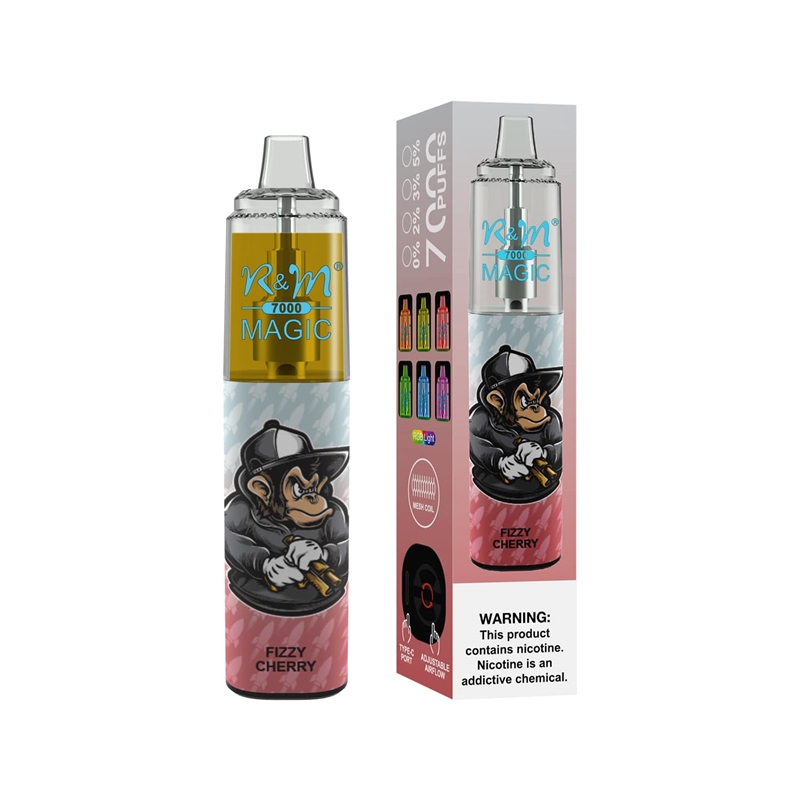 7000 Puffs of Pleasure
The R&M MAGIC 7000 is not your typical disposable vape. It boasts an impressive puff capacity of 7000, ensuring that you enjoy prolonged vaping pleasure. This extended puff life is powered by a robust 600mAh rechargeable inner battery, promising an uninterrupted vaping experience that lasts longer than you'd expect from a disposable device.
Vast E-Liquid Capacity
One distinguishing feature of the R&M MAGIC 7000 is its remarkable e-liquid capacity. With a generous 14.5ml reservoir, you won't have to worry about frequently refilling your vape. This is an incredible convenience, especially for those who lead busy lives and need a vape that can keep up with them.
Nicotine Strength Variety
Vapers have diverse preferences, and the R&M MAGIC 7000 recognizes this. It offers an array of nicotine strengths to cater to varying needs, including 0%, 2%, and 5% nicotine salt options. Whether you're transitioning from traditional smoking or looking for a lower-nicotine alternative, this device has you covered.
Resin Surface Treatment
The R&M MAGIC 7000 isn't just about functionality; it's also designed to make a statement. The device's surface treatment style is described as "resin," giving it a captivating and distinctive appearance. This means that your vaping experience is not just pleasurable but also visually appealing.
Flavor Extravaganza
One of the standout features of the R&M MAGIC 7000 is its wide range of flavor options. From the zesty zing of Blue Razz Lemonade to the sweet nostalgia of Blueberry Bubble Gum and the fizzy delight of Fizzy Cherry, there's a flavor to satisfy every palate. With this variety, you can explore and enjoy a new flavor with each device, making your vaping experience exciting and ever-changing.
Customization Options
The R&M MAGIC 7000 doesn't stop at providing an excellent vaping experience. It also offers OEM and custom orders, allowing you to create your unique vape with disposable flavors tailored to your preferences. With a minimum order quantity (MOQ) of 2000 for each flavor and a 10,000 purchase quantity, you have the flexibility to get the exact vaping experience you desire.
Conclusion
The R&M vape MAGIC 7000 Puff Mini E-Cigarette is revolutionizing the vaping landscape. With an astonishing puff capacity, substantial e-liquid reservoir, customizable nicotine strengths, stunning design, and a vast range of flavors, it sets a new standard for disposable rechargeable vape pens. If you're seeking a vaping experience that's both satisfying and unique, the R&M MAGIC 7000 is your go-to choice. Say hello to the future of vaping!